Be Your Great Cooking Partner
Are you a food lover? Do you like cheese? In my free time, I'd love to find some cheese recipes to cook because I am fond of cheese very much. Now, let me share a cheese recipe with you!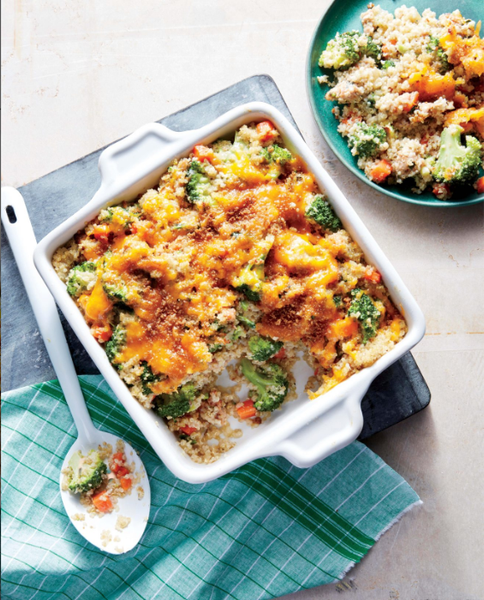 Cheesy Sausage, Broccoli, and Quinoa Casserole
This recipe traded white rice for whole-grain quinoa and kicked out any processed ingredients for a new take on this comfort classic. Freeze an extra pan of this whole-grain main for kid-friendly comfort. To add more flavor to quinoa, try toasting it. Here's how: After you've rinsed and drained the quinoa, heat a saucepan over medium-high heat and add the quinoa. Toast, stirring, until the grains begin to smell fragrant. Then, add the water and cook as normal.
Ingredients you should prepare:
2 ½ cups water
2 cups uncooked quinoa, rinsed and drained
1 ½ tablespoons olive oil, divided
½ cup chopped yellow onion
½ cup chopped carrot
4 (4-oz.) links sweet chicken Italian sausage, casings removed
¼ cup all-purpose flour
2 tablespoons unsalted butter
2 garlic cloves, finely chopped
2 cups whole milk
2 cups unsalted chicken stock (such as Swanson)
6 cups chopped fresh broccoli florets
1 tablespoon chopped fresh thyme, divided
½ teaspoon kosher salt, divided
½ teaspoon freshly ground black pepper, divided
¼ teaspoon crushed red pepper
½ cup whole-wheat panko (Japanese breadcrumbs)
4 ounces cheddar cheese, shredded (about 1 cup)
Directions:
Step 1
Preheat oven to 400°F.
Step 2
Bring 2 1/2 cups water and quinoa to a boil in a large saucepan. Reduce heat; cover and simmer 12 to 14 minutes or until liquid is absorbed. Remove pan from heat; let stand 5 minutes.
Step 3
Heat a large Dutch oven over medium-high. Add 1 tablespoon oil to pan; swirl to coat. Add onion, carrot, and sausage; cook 7 minutes, stirring to crumble sausage. Remove sausage mixture to a bowl with a slotted spoon.
Step 4
Add flour, butter, and garlic to drippings in pan; cook 2 minutes, stirring frequently. Add milk and stock; bring to a boil. Cook 2 minutes, stirring constantly with a whisk. Reduce heat to medium; stir in broccoli, 2 teaspoons thyme, 3/8 teaspoon salt, 3/8 teaspoon black pepper, and red pepper. Cover and cook 2 minutes. Stir in quinoa and sausage mixture.
Step 5
Coat 2 (8-inch) square microwave-safe glass or ceramic baking dishes with cooking spray. Divide quinoa mixture between dishes. Combine remaining 1 1/2 teaspoons oil and panko in a bowl; add remaining 1 teaspoon thyme, remaining 1/8 teaspoon salt, remaining 1/8 teaspoon black pepper, and cheddar. Sprinkle cheese mixture evenly over casseroles. Bake at 400°F for 18 minutes or until browned, or follow freezing instructions.
Step 6
How To: FREEZE: Cool unbaked casseroles completely; cover tightly with aluminum foil. Freeze up to 2 months. THAW: Remove foil. Microwave at HIGH 20 minutes or until thawed. REHEAT: Cover with foil and bake at 375°F for 25 minutes; then broil 5 minutes or until golden brown.
 I extremely enjoy trying different recipes. But, at the same time, I also find that preparing slicing, shredding and grinding takes too much time, so inefficient! Do you have the same problem with me? If so, Geedel cheese grater can be your kitchen partner.
One

 

Tool for

 

All
The Geedel rotary cheese grater, which is our best seller, has 3 interchangeable blades, helping us slice, shred and grind much easier and faster, best for cheese, vegetables, fruit, and nut. You can also learn more about it by watching this Video.
More

 

Effective & More Effortless with More Safer Opeartion
No matter what you use it for, the unique rotating drum cutting design makes the drum grater cut the ingredients 12x faster than other box graters. So we just need to rotate the handle and then everything will be done in seconds. It's so effective and effortless instead of be tired and inefficient by using a knife.
Additionally, we have no chance to touch the blades when using it, so don't worry about being hurt.
Fast

 

Clean &

 

Space

 

Saving
After using, cleaning is also easy. The cheese grater is detachable as well as it takes up a little cupboard base. You can simply clean the rotary grater under running water. Of course, except for convenience and efficiency, we are also supposed to care about other ways. You may ask:
-Is it BPA free?
Yes, our products are made from food grade BPA-FREE material. So don't worry about the food safety.
-

 

Is this dishwasher safe?
Yes, our products are all dishwasher safe, easy to clean. Cleaning isn't a problem any more.
- Is it durable?
Yes, 3 interchangeable blades are made of 430 stainless steel, can keep being used for a long time.
So, as a food lover who also like cooking, why don't you find a good kitchen partner? I believe Geedel must be a good choice.